Job Match is a job matching platform focused on UX designers in the Copenhagen area. It is designed to bridge the gap between UX designers and companies, and help designers get better jobs and companies get better applicants.
Sketching
The easiest way to start getting some solid ideas down is with a pencil and paper. So we started sketching our ideas of what the user flow of job match would be based on our brief with Helena (the product owner).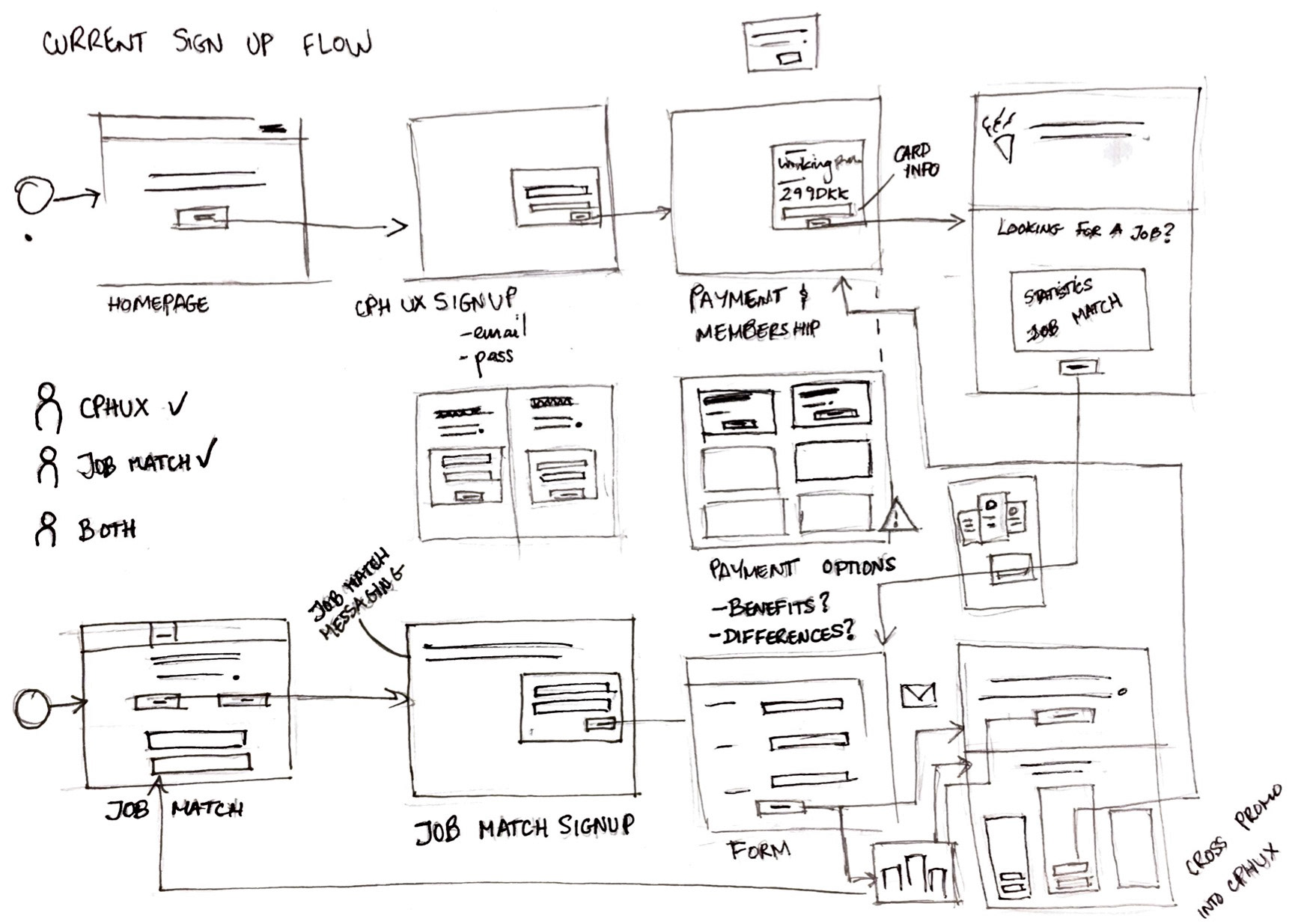 It was important to consider the environment we were designing in, being a website, the existing design of the live CPHUX website and how we would integrate with it. We spend time thinking about page layout, clear call to actions and how pages would interconnect to create a good experience.
Wireframing
Now it was time to think about content. Wireframing our sketches now takes a new focus - what are we communicating with text and layout on each of our pages? This was quite time consuming as we had to work closely with stakeholders to agree on messaging on every element of the design - call to actions, popups, menus, pages titles, forms - this was the time to get the text right.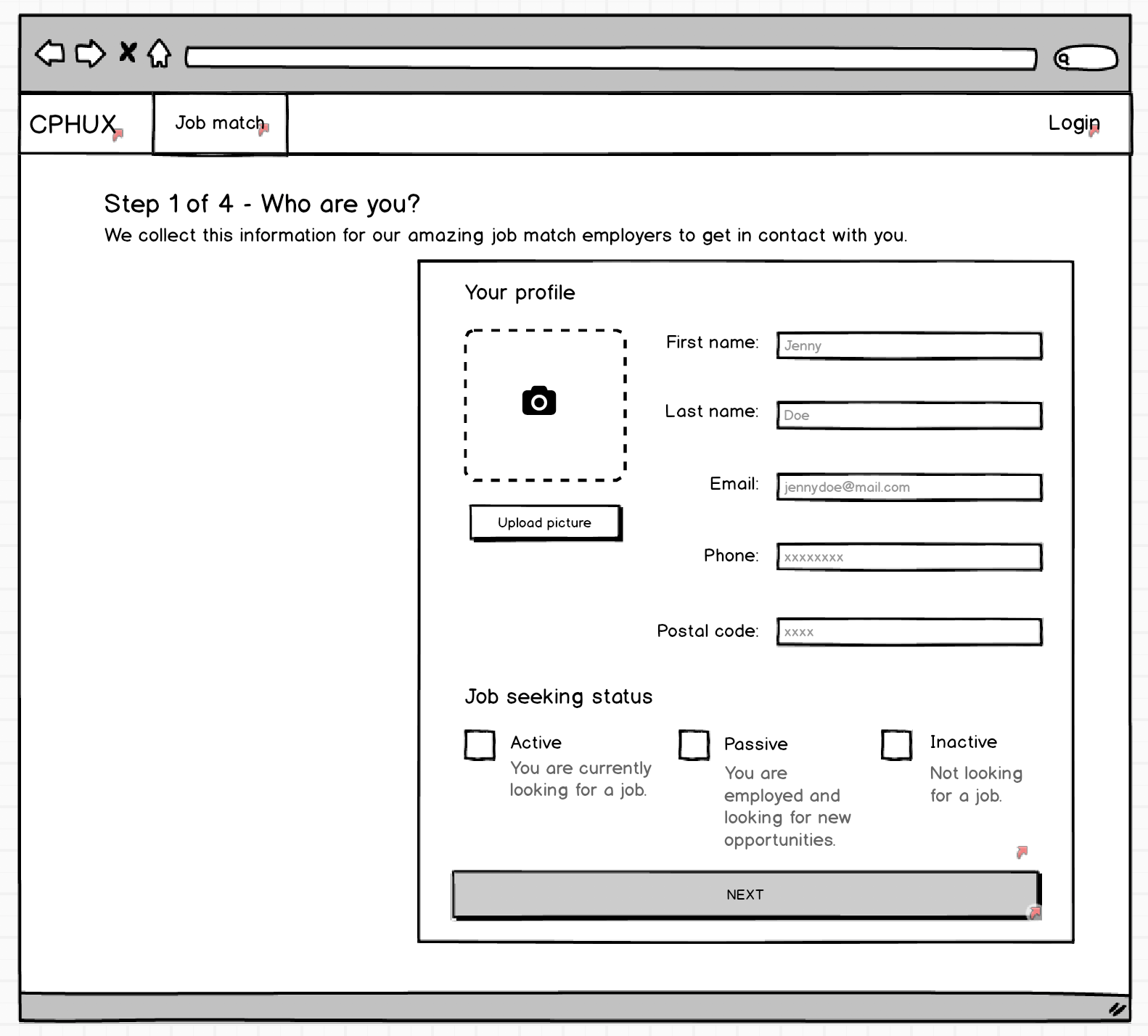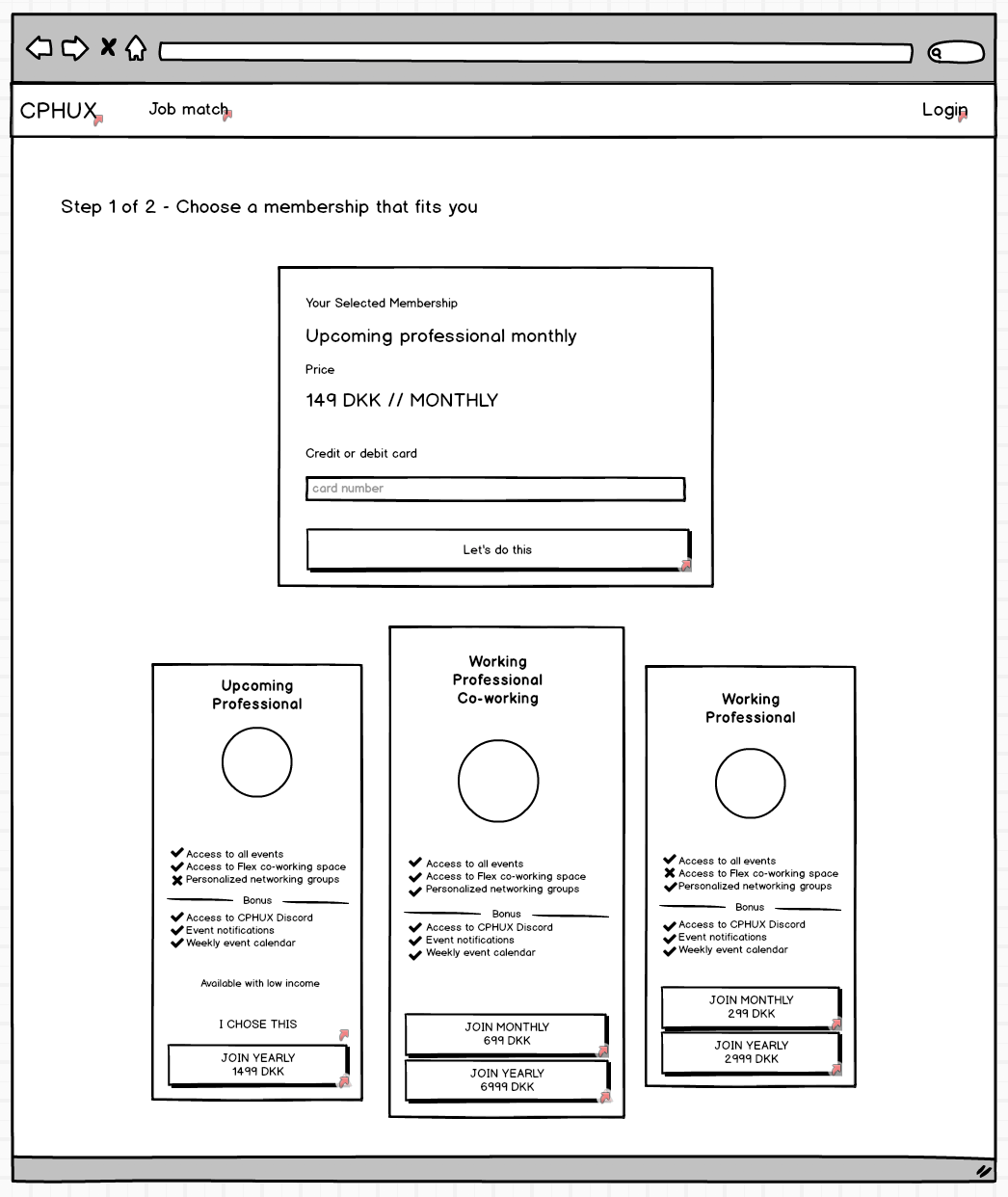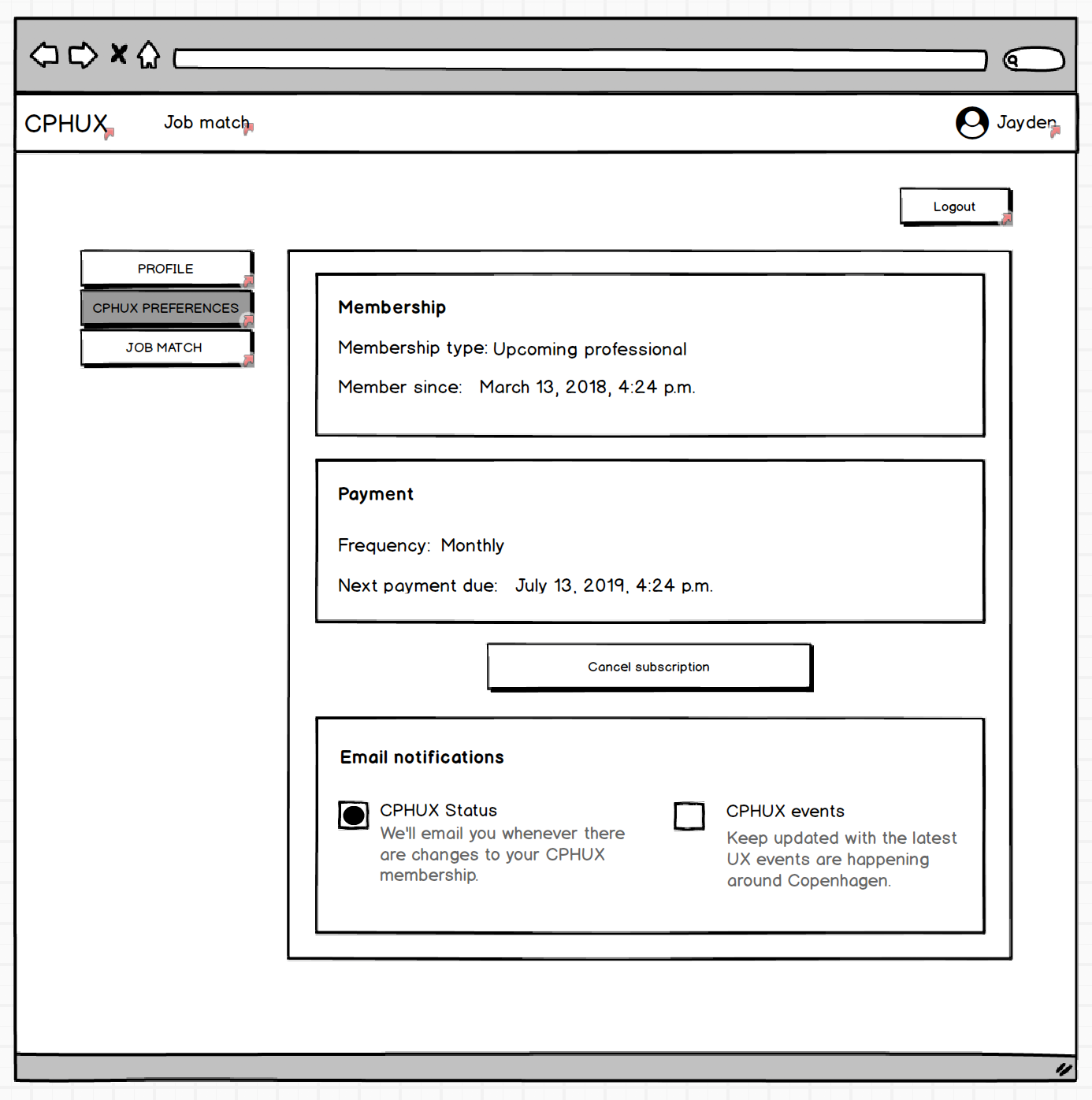 Prototype/Testing
Of course now it is important to get out there and see if all the ideas we have had in the office work with our actual users, so we swung into testing mode. First, we made our wireframe in Balsamiq into a clickable prototype. 
We had to think of our prototype is a playground for the user to not only be able to use our product and follow our user flow, but also find their own path and use traditional navigation methods that websites offer such selecting the logo to return to the home page.
To begin testing effectively we needed to craft user scenarios to direct our testers to play through our prototype but not lead them into doing exactly what we want. This is where choosing your words wisely really became true.
Iterating
"Patterns start to emerge in usability research after the first test. After five, you're really hearing the same stuff over and over again" - Laura Klein
We follow this rule of 5 when we approached our usability tests of Job Match we tested with 5 people then stopped to iterate on the prototype based on the patterns we discovered. This proved to be a very sustainable balance.
We repeated this process of testing, recording, analysing patterns then, made changes to the prototype. We got to a point that users could actually complete the tasks we were asking of them without trouble.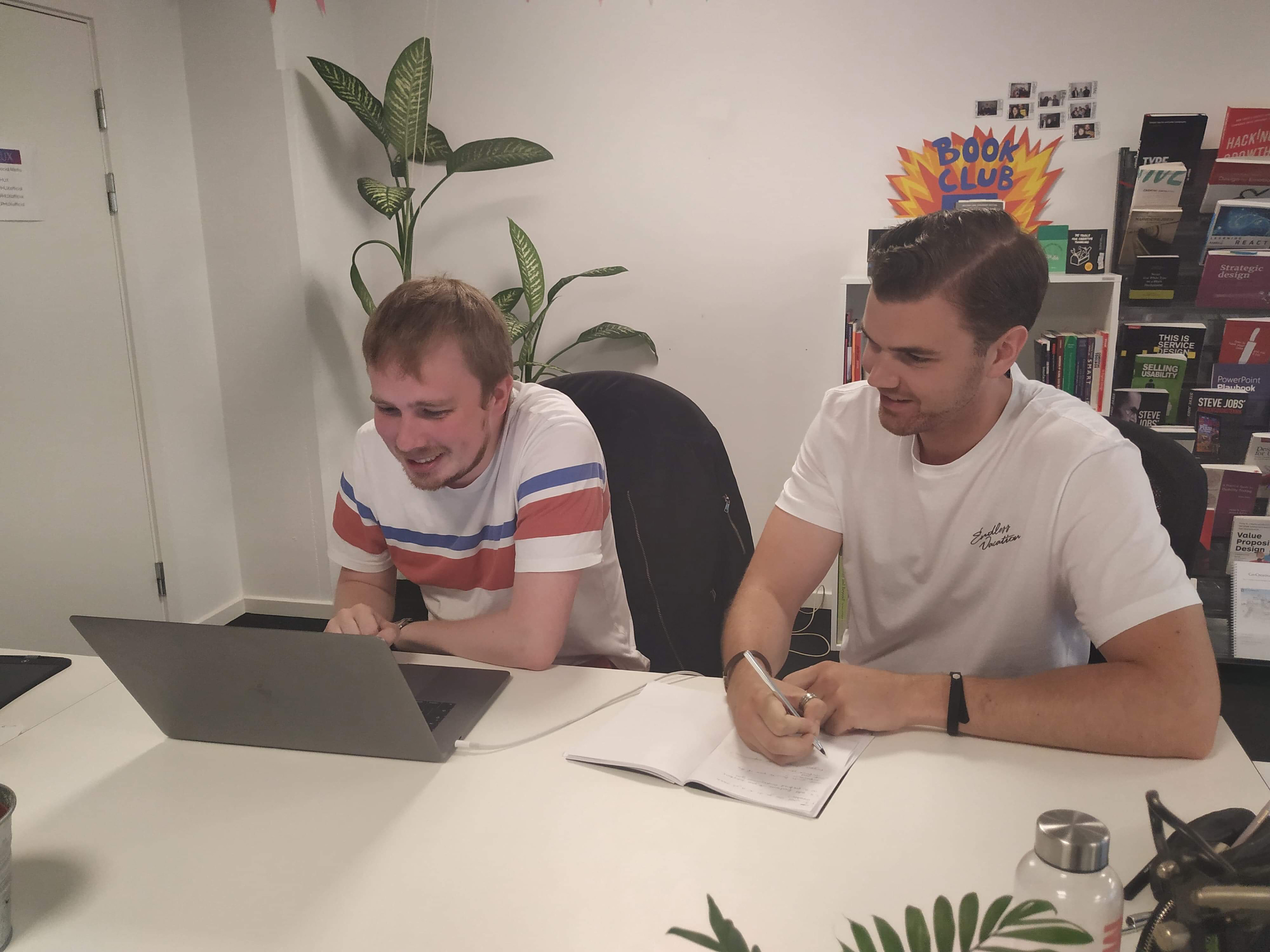 Analysis
We needed to Affinity map to sort, group and discover actionable outcomes from the large sets of feedback data we got from some tests. This technique showed a lot of common patterns and allowed us to focus on the most important changes.

To be developed
Now we have rigorously designed and tested the flow and communication of the prototype it is now the perfect start for the CPHUX development team. We will also assist in project managing the development of the product, so we are very excited to see it go live!